Dr.Paul Rusch ( born in Kentucky USA) built Seisenryo in 1938
as a lodge for residents and visitors to the leadership training camp
of the Brotherhood of St. Andrew, an Anglican group.
At his youth retreat, Dr Rusch groomed young people to become the
leaders of thefuture.
He started the Kiyosato Educational Experiment Project(KEEP) after World War II,
with the goal of establishing a model community based on the four principles of
"food, health, faith, and hope for youth " in the desperately poor, rural Yatsugatake
region.
Paul Rusch died in 1979, leaving behind his famous message, "Do your best, and
it must be first class".
His work is carried on by KEEP, Inc., which is by now a well-established NPO,as well as
by innumerable volunteers in Kiyosato, where Plul Rusch is a much-celebrated and
beloved figure.

Paul Rush Memorial Center

Paul Rush Festival-Yatsugatake County Fare-Mid October

Until about 80 years ago, Kiyosato remained unsettled, as its climate was considered
too harsh to support farmers
In 1924, however, a village below Kiyosato was submerged during the construction fo a dam, and some farmers were relocated to the Kiyosato area. In exchange for giving up their homes, the goverment alotted these people a piece of land around Kiyosato along with monetary compensation. The settlers, equijpped with nothing but hoes and their bare hands, had to cultivate the land in order to raise food, built homes, and sustain themselves in this wild land. Mr.Okio Yasuike, a publice officer and leaders of the relocation project, support the settlers during this period, both in a material and spiritual sense.g
Gazing upon the beautiful, developed landscape of today, it is hard to imagine the
stories of suffering that took place here.

You can find a relief of the late Mr Okio Yasuike iin front of Yatsugatake
Public Hall.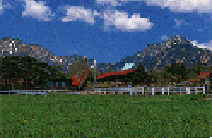 Celebreties